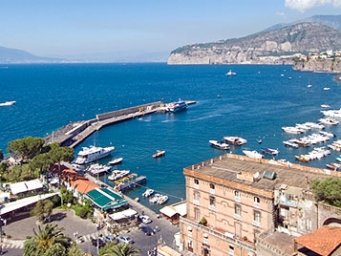 Il Sant'Anna Institute è a Sorrento, in via Marina Grande 16
HOW TO GET TO NAPLES
- Via Airplane
The closest domestic and international airport to Sorrento is Capodichino Airport just outside of Naples. If you are flying to Italy from the U.S., it is likely that you will stopover at Malpensa Airport in Milan or Fiumicino Airport in Rome, and then makes a connecting flight to Naples. Flights to Naples from the main European cities are frequent.

- Via Train
You can reach Naples by train. There are three main train stations in Naples: Central Station, Mergellina Station, and Campi Flegrei Station.
FROM NAPLES TO SORRENTO
You can reach Sorrento from Naples in several ways.

- Via Bus
If you are flying directly to Naples Capodichino airport, there are daily buses from the airport to Sorrento.

- Via Train
If you are arriving to Naples via train, get off at Central Station, where you can connect to the local train service called "Circumvesuviana" (located just before the exit to the station). Trains from Naples run approximately every half hour until 10 p.m. Sorrento is the last stop on the Circumvesuviana line and takes approximately an hour.

- Via Taxi
The school offers a taxi service (one way) from Naples airport to Sorrento for €90.

- Via Hydrofoil
Alternatively, you can take a hydrofoil or ferryboat to Sorrento from Molo Beverello port in Naples.
FROM ROME TO SORRENTO
- Via Bus
The Marozzi busline leaves from Rome to Sorrento once a day.
• è una città sicura
• si trova lungo il versante meridionale del golfo di Napoli, a circa 50 km dal centro Napoli
• il suo nome deriverebbe, secondo la tradizione, dalle Sirene, le mitiche creature che con il loro canto ammaliavano i naviganti.
• fu dominata dai Sanniti, poi dai Romani e, nel 552, dai Bizantini. Successivamente dai Normanni, dagli Angioini, dagli Aragonesi ed infine dai Borboni.
• è stato il luogo di villeggiatura prediletto dall'aristocrazia romana, che vi costruì grandiose ville delle quali è ancora possibile scorgere i resti. • nel '700 e nell'800 diventò la meta prediletta di artisti, letterati e musicisti provenienti da ogni luogo, che traevano dalla bellezza dei suoi panorami e dall'amenità dei suoi paesaggi la fonte d'ispirazione per le loro opere.
• è la meta preferita dal turismo internazionale
• è caratterizzata da una popolazione cordiale, gentile ed ospitale
• ha un clima mediterraneo mite e soleggiato ha una rinomata tradizione culinaria
• è dotata di attrezzati stabilimenti balneari
• è facilmente raggiungibile via terra con treno, auto, bus e via mare con aliscafi
• si trova a poca distanza da Capri, Positano, Amalfi, Pompei, Ercolano, Vesuvio