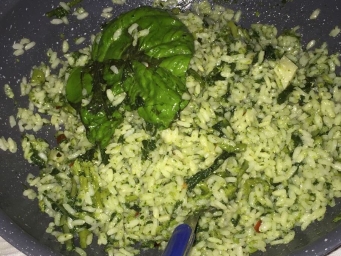 In Summer time there's nothing we all love more than a dinner with natural products just picked from your garden!
Yesterday night I prepared a delicious dinner with my students at Sant'Anna Institute.
We had so much fun and we all practiced italian while preparing the Rice with broccoli, pesto, toasted almonds and parmesan.
Ingredients
Salt
1 head broccoli (about 1 pound)
1/3 cup sliced toasted almonds, plus more for garnish (see NOTE)
1/4 cup packed fresh basil leaves, plus several small leaves for garnish
1 clove garlic, chopped
1/3 cup extra-virgin olive oil
Freshly ground black pepper
8 ounces medium rice
Directions
Bring a large pot of salted water to a boil over high heat.
Cut the broccoli into florets and thinly slice the stems (no peeling needed). Add the florets and stems to the water; cook until bright green and barely tender, about 2 minutes. Use a slotted spoon to transfer the broccoli to a bowl, reserving the cooking water for the rice noodles. Season the vegetable with salt and let it cool slightly.
Coarsely chop 1 cup of the blanched florets. Add the remaining florets and stems to the bowl of a food processor along with the almonds, basil, garlic and olive oil. Puree to form a smooth pesto. Season with salt and pepper to taste.
Return the cooking water to a boil. Add the rice noodles and cook according to the package directions.
Reserve 1 cup of the cooking water, then drain the noodles, rinse them in cold water, and return them to the pot (off the heat).
Toss with the pesto to coat evenly, adding enough of the reserved water to create a creamy sauce.
Divide among individual bowls; top each portion with the reserved chopped broccoli florets, small basil leaves, parmesan and sliced almonds. Grind pepper on top and serve.