Didactic Method
The teaching method of the school is based on the most modern techniques of teaching Italian as a second language and it develops the 4 practical skills: listening, reading, writing and speaking.
All the teachers are highly qualified and specialized in teaching Italian L2.
Italian Language Courses
As well as traditional classroom methods of education, Sant'Anna Institute offers all students the chance to put their knowledge into practice through full immersion in an Italian environment. We consider constant contact with mother –tongue speakers to be of vital importance for a true understanding of our language and customs.

Key details
- maximum group class size 12
- study book & attendance certificate included in fees
- levels relate to Common European Framework (A1 to C2)

Our students' training includes constant assessment of the level of learning, using tests and exams to check progress, feedback sessions, and actual level achieved. Once the course is over, we will provide students with a certificate of attendance and instructions so that they can carry on their studies on their own.
Our students receive
- italian grammar book
- italian exercise book
- free wifi access
- Sant'Anna Institute discount card (special discounts in shops, bars, and restaurants)
- On site advisor
- At the end of every Italian language course the student receives a certificate of attendance.
You will participate fully in Italian
Why learn italian in Italy?
your goal will be to learn true Italian. It will be a natural and quickly moving learning experience because during the course, you will actually live in Italy.You will be immersed in the culture while listening to, reading and speaking only Italian for the entire day. In turn, you will make rapid progress, both inside and outside the classroom. This participation represents the best method of approach to quickly strengthen your abilities to practice the language and at the same time to understand the emotions related to certain words.
Extracurricular Activities
Sant'Anna Institute organizes extracurricular activities for its students, as opportunities to improve their knowledge of culture and Italian language while having fun:
• COFFEE BREAKS: occasions to speak in Italian that became a meeting point for all the students and teachers of different classes to get know each other better.
• COOKING LESSONS: the most entertaining activity! We cook and eat together the tipical dishes of the Italian cuisine.
• GAME: to improve the grammar
• PHONETICS LESSON: to improve pronunciation, avoiding common mistakes.
• LESSONS ON VOCABULARY: to discover common sayings and special Italian expressions.
• SPECIAL LESSONS ON GRAMMAR: focusing on the most difficult grammatical topics, offering the possibility to exercise through practice and targeted materials.
• GUIDED VISITS: tours to discover the Sorrento Peninsula, the Amalfi Coast, Pompeii, Naples, Capri and Mount Vesuvius and the extraordinary Italian culture.
• ACTIVITY ON ITALIAN MUSIC: to get familiar with the Italian pop music.
• FILM SCREENINGS: Italy through the stories of the famous directors, connecting listening and comprehension.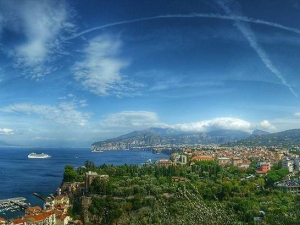 Life in Sorrento, Housing, Italian Study Visa, Italian Bank Account, Excursions & Field Trip, Sant'Anna Card...
click here
ITALIAN LANGUAGE: WHY?
Italian is spoken by 55 million people in Italy and 62 million people throughout the world. Italy has the 7th largest economy in the world and is a major political force in Europe.
Italy has the cultures, landscapes, and histories to fill a lifetime of investigation. Knowing Italian places you in a position to explore Italy's past and present from the most fulfilling vantage point.

Why Italian?

1. L'Italia è Cultura: to fully appreciate the richness of Italian literature, theater, opera, and films, knowledge of the language is essential.
2. L'Italiano per viaggiare: to truly get to know Italy it takes more time and, above all, Italian language skills.
3. L'Italia è famiglia: