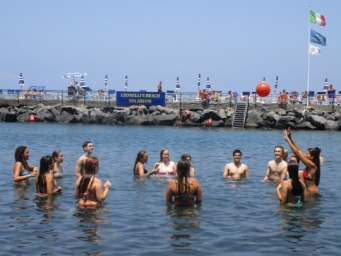 Sant'Anna Institute offers a variety of Study Programs and Educational Trips for HIGH SCHOOLS from all over the world (all year round) .
- Program ranging from 1 to 6 weeks
- Daily courses, Monday-Friday
- Airport transfers from/to Naples Airport
- Housing: local host families (2 students per home) or Hotel Accommodation
- Field trips: excursions to Capri, Positano and Pompeii or flexible to your requirements

"Our trip to Pompeii was one of the most memorable experienced. The history, culture, and beauty is unparalleled. This is a place that everyone should have the chance to see." - 2015 High School Student at Sant'Anna

What makes us excepitonal is our mission to balance classroom learning with exploration and learning on-site.
Every activity we offer can match both in and out class study opportunities, that link the experience to the theory. Our faculty (in fields such as, Archaeology, Volcanology, Latin, Geology, etc.) combine their cultural lessons with an excursion for an unforgettable on-site lesson.
COURSE OFFERINGS:
- Cultural Courses:

ART & ARCHAEOLOGY
ITALIAN STUDIES
MARINE BIOLOGY
GEOLOGY
VOLCANOLOGY
NATURAL SCIENCES
CLASSICAL STUDIES (LATIN, ITALIAN LITERATURE)
SOCIAL SCIENCES
BUSINESS ADMINISTRATION

- Combined Courses:

Italian & Voice
Italian & Cooking
Italian & Ceramics

Additionally, we offer the opportunity to interact with local students through our
Exchange "TANDEM" Groups Programs with local Italian schools.
EXTRACURRICULAR ACTIVITIES
We also offer a variety of interesting EXTRACURRICULAR ACTIVITIES. These include:

- Courses of mediterranean cuisine with dinner
- Ceramics course
- Tarantella (traditional dance) class
- Visit to a Mozzarella Cheese Factory
- Gelato (Ice Cream) LABORATORY
- BEACH volleyball
- Pizza making class
- Oil Mill
- TRADITIONAL pastry making class
- Visit to Local Market
"It is fun to hang out with people who not only know their way around but also speak another language. We can practice our Italian with them and vice versa." - 2015 High School Student at Sant'Anna
In summary...:
Tailor-made educational tours
Passion for excellence
An avant-guard methodology
Hands-on, experiencial learning
No previous Italian language necessary
Age 14 and up

Have fun! Divertitevi!!

Our passion is to help students and foreigners experience the joys and cultures of this region. Students can learn a great deal from not only the classroom experience, but from all that the area provides in way of experiential learning on-site, experiencing local culture, customs becoming more than simply a passive observer of the area.

Be a traveler, not a tourist.

"During our lunch period, a frequent choice of enjoyment is going down to the warm, clear water of Marina Grande and getting a snack at the water's edge, then having a swim!" - 2015 High School Student at Sant'Anna