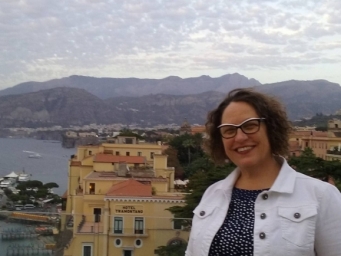 Jenny Hopkins, who was awarded a scholarship for a 2 weeks Italian Course offered by Sant'Anna Institute in collaboration with ACTFL talks about her studying experience in Sorrento.
"All teachers should put themselves in the student's chair at least once a year. I try to do this every summer as a way to understand the frustration of the learner. By studying a language I'm not yet proficient in, I experience first-hand what it is like to be a beginning language student, how it feels to struggle with comprehension, and what works to keep my attention in the classroom. I usually come away with a list of "dos" and "don'ts" for my own teaching practice that rivals anything I could have learned in a traditional teacher training program.

So when presented with the opportunity to study Italian at the Sant'Anna Institute in Sorrento, Italy for two weeks this summer, I jumped at the chance. It seemed like a long shot for a teacher of Chinese and French to try to win one of ACTFL's teacher scholarships to study Italian in Italy. But I pulled out my rusty Italian, wrote a mini essay explaining how this experience would help my teaching practice, sent it in, crossed my fingers, and waited. There was no one more surprised than I was to learn that I was a winner!

Sant'Anna Institute is located in the beautiful coastal city of Sorrento, about an hour by local train from Napoli (Naples). The school is housed in an old building on the grounds of what was originally a convent with stunning views from the classroom windows of the Marina Grande, the hydrofoils going to Capri, and the hotels along the cliffs of what is known as the Amalfi Coast. To say that this location is a distraction to learning is an understatement; I couldn't help sneaking peeks at the scenery while I was in class. The building has been renovated to accommodate the school offices and classrooms on the first two floors and student dormitory rooms above that. Adult students, such as myself, generally stay in the city of Sorrento (either in hotels, apartments, or with families) whereas undergraduate students stay in the dorm rooms. I asked the school to help me find an Italian host family to stay with. So when I arrived in Napoli from Rome, I found my way to the local train which runs along the foot of Mt. Vesuvius (the "Circumvesuviana") and arrived in Sorrento on a very hot Sunday afternoon in June.

The family I stayed with lived in a large airy flat on a busy street about a 20 minute walk from Sant'Anna Institute. The host "mother," (Francesca – who was younger than I was), worked as an English tour guide in the area, so she regularly made trips to Napoli or Pompeii. She never once spoke English with me, which I really appreciated since I wanted a full immersion experience. The father helped with childcare during the summer tourist season and took the kids (ages 5 and 7) to the beach several times a week, helped walk the dog, and made a great seafood spaghetti. Francesca gave me lots of helpful tips about what to do and where to go in the area. We talked about books and local authors, the best brand of coffee for me to take home, and how the Italian people recycle bottles, cardboard, and plastic. Staying with an Italian family gave me a glimpse into Italian daily life that I wouldn't have gotten had I stayed in a hotel or in my own furnished apartment.

MY HOST FAMILY

I had my own room with a balcony and a bathroom down the hallway, which I shared when other family members wanted to use the shower. I had free use of the kitchen where I made my own coffee and breakfast before going to my classes. They encouraged me to make myself at home, so I would occasionally prepare a salad for dinner. Toward the end of my stay, the family insisted that I have dinner with them, which I did on several occasions. I could have used their washing machine for my clothing, but I preferred to wash things out in the sink and hang them out to dry on the balcony.

Classes started at 9:00 a.m. every morning, which gave me plenty of time to walk there from my host family's house. There were two classes of an hour and a half each, with a long coffee break in between. We took a lunch break at 12:40 and private lessons were scheduled at various times in the afternoon. Homework was light for the adult classes, which suited me fine since I was in vacation mode.

The placement test on the first day consisted mainly of a short conversation with one of the teachers. The cut-off point for going into a more advanced class seemed to be the issue of subjunctive mood verbs. Since I hadn't fully mastered the many forms of subjunctive, I was put into what appeared to be the intermediate class. The class had a range of student levels from one adult learner who had just started studying Italian three months previously, to another who didn't know what the imperfect tense was (even in English), to me – a world language teacher who knew all about verbs, but who had a very spotty history of Italian studies over the past 20 years. There was a nice camaraderie amongst the students who all helped each other and often ate lunch together after the morning classes. Since there were only three or four students in each class (total of four classes of adult students), we all got to know each other quite well. Students rotated in and out of classes depending on the length of their stay, and while I was there, came from Scotland, Ireland, Spain, Germany, and the US.

The teachers were very friendly and set everyone at ease with their laid-back style. It was apparent that all of them had had training in how to organize thematic units and use the target language exclusively. They were determined to explain everything in Italian, which I really appreciated. Although they started lessons in an informal conversational style, teachers had a distinct purpose and direction, because somehow the conversation eased into the topic for that class period without us ever realizing that the flow of the discourse was intentional. It took me a few class periods to realize how skilled they were at this. I was quite impressed with how the teachers could both set us all at ease and use the target language exclusively, while focusing on a specific learning goal, which also included a grammatical element. Lessons had a cultural component, so I always learned something new about Italy or Italian culture, but there was also a bit of grammar, which was taught in a direct but not overly annoying way. We all seemed to appreciate the inclusion of grammar work, as it felt good to review and practice some language rules that we hadn't yet mastered.

VIEW FROM THE CLASSROOM

My scholarship included five hours of private one-on-one instruction that were scheduled at various times in the afternoons. Some days I had an hour-long lesson and other days I had a two-hour lesson; some days I had the afternoon off! The teachers contacted me beforehand to find out what topics I wanted to focus on in my private classes. I generally chose to learn more about the region: the foods, the festivals, the educational system. I felt that I made the most progress with my Italian during these private lessons, although I would get fatigued during the two-hour sessions and start to zone out. Some days I spoke Italian for about six hours including morning class time, lunches with classmates where we kept in the target language, conversations with my host family, and my private lessons; on these days, I would usually take an afternoon nap to recover from the exhaustion of this output. Did I also mention that Sorrento is quite hot in the summer? This, along with the cerebral work of decoding what I heard and trying to always respond in Italian, added to my need for a daily mid-day rest.

There were various social and cultural outings arranged by the school. On the very first day of classes, I joined a tour of Sorrento guided by one of the staff members of Sant'Anna and learned a bit about the history of the city and the region. On another night, a classmate and I decided to register for an Italian cooking class. Although it was taught in English and attended by small groups of tourists from English speaking countries that had never heard of our language school, I enjoyed the chance to learn about Italian cooking and to interact with people who thought that our Italian was amazing! On the weekend, I made a solo trip to Napoli to tour the elaborate opera house (Teatro San Carlo) and to purchase tickets for performances that would be held on the following weekend. I also visited one of my classmates on the island of Capri where she had joined her husband for a relaxing beach vacation after one week of study at Sant'Anna.

In addition to the planned tours and activities, there were many other things to do in Sorrento. I enjoyed browsing in the tourist shops, watching the world go by in the outdoor restaurants, and sampling as many varieties of gelato as possible. Other students enjoyed hanging out at the beach. Many of the locals in Sorrento speak English to the tourists, but I would gently request that we speak in Italian, and they would be thrilled to comply. During my second week, I got brave and went to a beauty parlor to try a new hair style, explaining my desired new look in Italian as best I could. I followed up that experience by shopping for hair-care products. One of my goals for this summer experience was to kick back and relax "Italian style," which I felt I accomplished by sitting on the terrace of a favorite bistro nearly every afternoon and ordering a caffè macchiato.

Sant'Anna Institute was a great place to work on improving my rusty Italian. The staff were accommodating, helpful, and friendly. Being in Sorrento gave me ample opportunities to practice Italian outside of class. I would like to return in the future and have already contacted some of my classmates to see if we can coordinate our trips so that we can study there together again in the future. I definitely came out ahead on this trip: I improved my Italian, learned about Italian culture, made new friends, observed high quality language teachers in action, and practiced "watching the world go by." By putting myself in the role of "Italian language learner," I achieved my goal of returning to a student perspective so that my own teaching can improve. I am so grateful to both ACTFL for providing me with this opportunity, and to the staff of Sant'Anna Institute for helping me to improve my Italian in the beautiful city of Sorrento for two weeks this summer."