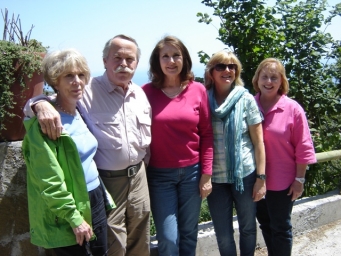 Italian Language and Culture
The program is designed for people who want to learn Italian and experience the local culture with other students of a similar age and interests.
Sant'Anna Institute proudly offers a 2-week 50 + Italian language and culture program (also with a 4-week option upon request).
This program is available in October and in April in the following weeks:
- From April 12 to April 23, 2021 ( Arrival day: April 11 – Departure day: April 24)
- From October 11 to October 22, 2021 (Arrival day: October 10 – Departure day: October 23)
The program includes:
- 2 weeks Italian BASIC course
- 2 weeks (13 nights) accommodation: in family, single room, Sant'Anna Residence Hall (PLEASE CHECK AVAILABILITY) , B&B*
- 1 Tour of Sorrento
- 1 Excursions to Pompeii
- 1 Excursion to Naples
- 2 afternoons of school activities, such as Italian film and class cultural lessons.
- 1 Visit to Limoncello Factory followed by tasting
- 1 Make your own Gelato and enjoy
- 1 Typical Sorrentine cooking class
Sant'Anna Institute can offer on request a multitude of different accommodation arrangements including: shared Apartments, apartment rentals, and hotel reservations.
Optional Excursions:
During the rest of your free time you can enjoy excursions to Capri, Ischia, The Amalfi Coast, Positano, The Castle of Caserta, Paestum, Vesuvious, Historic Naples, which includes, Capodimonte Museum, The National Archaeological Museum, world famous San Carlo Opera house and more.
Something Special on the Weekends…
We organize excursions to Rome, Florence, Siena and more.
You can also enjoy a refreshing and rejuvenating experience at a local wellness centre and health Spa where you can pamper yourself to a Turkish bath, a thermal Spa, a sauna and a variety of massages and luxurious treatments to make your visit truly rewarding.
Price: 1147 Euros (two weeks) + 75€ enrollment fee