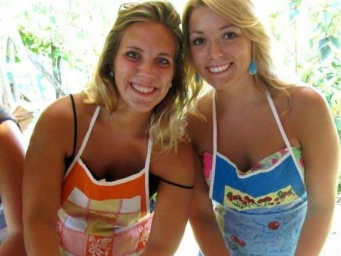 We offers to all lovers of Mediterranean food a combined course:
ITALIAN & COOKING
. Learn how to prepare traditional Italian recipes as well as dishes unique to the Sorrento and the Campania region.
Our instructor will lead you on a gastronomical tour of Italy and teach you the secrets of making Mediterranean food (i.e., handmade pasta, gnocchi, fish).
Each course is designed as a full meal, including 'antipasti', 'primo piatto', 'secondo piatto', and 'dolce'.
The program includes.
- Italian Language Basic Course: group class in the morning (all levels), 20 hours / 5 days per week;
- Family accommodation: single room in B&B (only breakfast);
- n 3 afternoon cooking lessons per week with dinner on Mediterranean cuisine;
- N 2 excursions per week.
PRICE : 1 week 942€
The program is designed for those want to discover and experience the Italian Culture and life.
Our Italian classes let you improve your knowledge of Italian Language in a very stimulating and professional environment. All our Italian teachers are highly qualified and sensitive to the students needs.
With our cooking class you will learn the secrets of traditional products, the art of combining them and working them together to create delicate samples, to re-prepare at home with friends and family. At the end of each lesson there will be a dinner in which you will taste the realized dishes.
Moreover, within easy reach from Sorrento there are the Greek cities of Paestum and Cuma; the Roman cities of Pompeii, Herculaneum and Puteoli; the Roman villas of Oplonti and Castellamare; the Renaissance and Baroque architecture of Naples; the traditional Mediterranean townscapes of Ravello, Amalfi, Positano and the renowned islands of Capri and Ischia.
1 Week: 942€
2 Weeks: 1633€
3 Weeks: 2382€
4 Weeks: 3068
Extra: € 848